Spathe Systems Partners with the U.S. Department of Defense to Support Their SkillBridge Program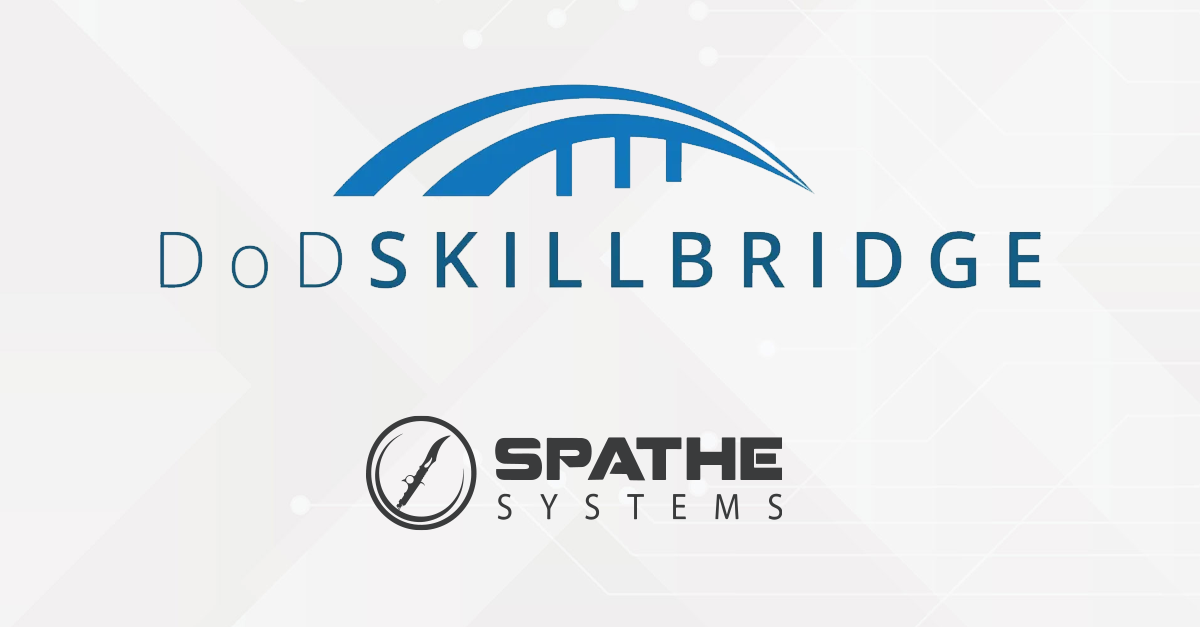 TAMPA, Fla. – August 18 2021 – Spathe Systems, LLC is pleased to announce our official partnership with the U.S. Department of Defense sponsored SkillBridge Program.
Being a Service-Disabled, Veteran-Owned Small Business, SPATHE understands the hardships that come with transitioning out of the military. As a company, and as individuals, Team SPATHE is excited and prepared to work with the Department of Defense to lend a helping hand to all our fellow service members transitioning into the workforce. SPATHE has always been defined as a diverse and experienced team of professionals, committed to providing innovative solutions for our customers and we intend to continue this as we support the Department of Defense and their SkillBridge Program.
The DoD SkillBridge Program (sometimes referred to by the Military Departments as the Career Skill Program (CSP)), is a program that gives Service members the opportunity to capitalize on training and development throughout their military career so they can grow and develop as professionals fully capable of serving the Nation – both during their time in uniform and after their term of military service, as civilians. This enables Service members to gain valuable civilian work experience through specific industry training, apprenticeships, and/or internships during the last 180 days of their service.
Spathe Systems is honored to assist America's finest men and women of the Military as they start the next chapter in their lives via the DOD Skill Bridge Program. Many of our employees are veterans who have all experienced the transition process and we fully understand what hardships come along with that. Through this program, we will lend a helping hand to all our fellow military veterans looking to start their next career.

Arthur Coley
Director, Strategic Relations
For Service members, SkillBridge provides an invaluable chance to work and learn in civilian career areas. For industry partners, SkillBridge is an opportunity to access and leverage the world's most highly trained and motivated workforce at no cost. Service members participating in SkillBridge receive their military compensation and benefits, and industry partners provide the training and work experience.
For more information on the team and capabilities at Spathe Systems, please visit www.spathesystems.com.