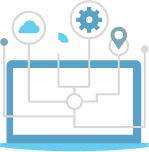 We offer a secure, reliable, global Command, Control, Computers, Cyber, Communications, Surveillance, Intelligence, and Reconnaissance (C5ISR) Environment.
We provide extensive support through every contract we are apart of. Spathe is integrated across the entire Enterprise, with a complete understanding of USSOCOM's complexities.

We aim to modernize your infrastructure and application workforce to keep up with the fast-paced and quickly-changing Information Technology landscape present across the DoD.
We provide Fast, Reliable, Agile, and Responsive services and solutions to enable operations by Capitalizing on our diverse experiences within the Defense, Commercial and Academic industries. Delivering Innovative, Interoperable Technologies and Leveraging Strategic Alliances with industry partners.
Spathe's services include
---





SYSTEMS & NETWORK
ENGINEERING


PROGRAM/PROJECT
MANAGEMENT



JOIN OUR TEAM OF PROFESSIONALS
SPATHE's support to our customers spans the globe. We leverage our leadership team's relationships within in the Defense, Commercial and Academic industries, along with recent college graduates, to access infrastructure, logistics nodes, and resources to support our customers' needs around the world.
INTERESTED IN WORKING WITH US?
Reach out to us to start the perfect collaboration
INTERESTED IN WORKING WITH US?
Reach out to us to start the perfect collaboration