Spathe Systems Receives 2023 HIRE Vets Medallion Award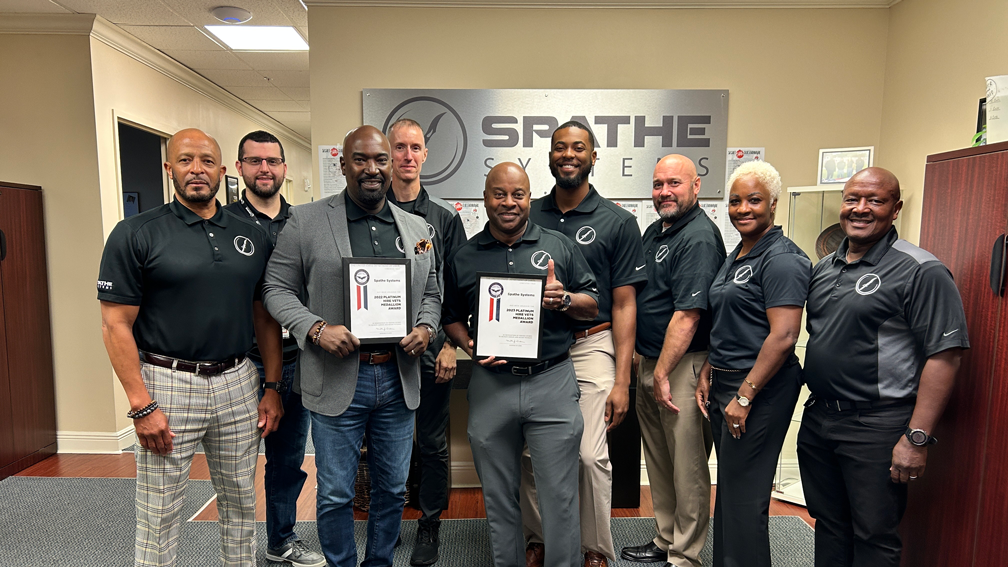 Tampa, FL – November 2023 – We are pleased to announce that the U.S. Secretary of Labor, Martin J. Walsh, recognized Spathe Systems, for the 2nd year in a row, as one of the 835 recipients of the 2023 HIRE Vets Medallion Award for Exceptional Military Transition Support Initiatives.
Established in 2018, The HIRE Vets Medallion Award program recognizes companies for their exceptional commitment to the hiring, retention, and professional development of our nation's veterans. The Medallion is the only official federal award that recognizes achievement in veteran employment and is the highest federal standard for businesses of all sizes and geographic locations. Spathe Systems earned the Platinum award for a mid-size company after applying earlier this year and meeting all the required qualifications.
Recipients of the 2022 HIRE Vets Medallion Award meet rigorous employment and veteran integration assistance criteria, including veteran hiring and retention percentages; availability of veteran-specific resources; leadership programming for veterans; dedicated human resource efforts; pay compensation and tuition assistance programs for veterans. The Honoring Investments in Recruiting and Employing American Military Veterans (HIRE Vets) Medallion Program implements the requirements of the HIRE Vets Act of 2017 (Public Law 115-31). By meeting the criteria required for a Platinum Medallion Award, Spathe Systems demonstrated both patriotism and recognition of the values veterans bring to the workplace.
"This medallion award is a true representation of everything that we have been working to achieve since we started Spathe Systems back in 2014. Serving and providing support to our nation's warfighters has always been a primary objective of ours and we are truly honored to receive a recognition that is reflective of that."

Mark Clifton
President, Spathe Systems

Being a Service Disabled, Veteran Owned Small Business, we at Spathe believe it is our duty to provide support, coaching, and mentoring to our nation's veterans as they navigate the next chapters of their personal and professional lives. We're so proud to be recognized for this award, and hope you share in our excitement.
The HIRE Vets Medallion Award is earned by businesses that demonstrate unparalleled commitment to attracting, hiring and retaining veterans. The 2023 HIRE Vets Medallion Award application period will open to employers on Jan. 31, 2023. For more information about the program and the application process,
visit HIREVets.gov
To learn more about our work with veterans, don't hesitate to visit our Military Fellowship Programs. We would love to work with you!