Spathe's Director of Strategic Relations, AC Coley, Donates Military Accolades to the Dunedin History Museum for 9/11 Anniversary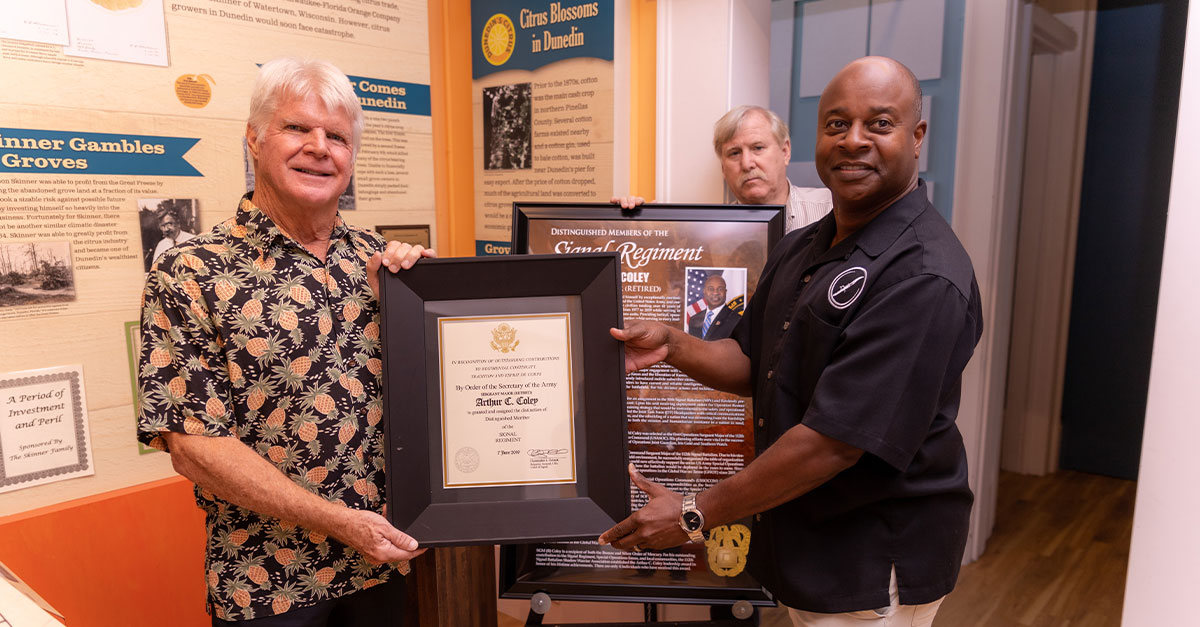 Today was a monumental day in history for both members of the Dunedin History Museum and Spathe Systems. Spathe's Director of Strategic Relations, Arthur "AC" Coley, had the incredible opportunity to donate some of his most respected military accolades to the Dunedin History Museum, not only to add history to his hometown, but to also pay respects to the events that occurred on September 11, 2001: a horrific historical act in which he kept his promise to defend our country.
For those who don't know, AC grew up in the center of Dunedin, Florida during the height of the Civil Rights movement. Throughout the first 18 years of his life, AC was a devoted member of the Dunedin community. He was highly active during his youth and adolescent days, playing multiple sports and being a regular member of the Shiloh Missionary Baptist Church.
When he turned 18, AC, with the advice of his parents and various members of the Dunedin community, decided to join the US Army. The military gave him a unique opportunity to overcome hardships, just like those experienced by many African American Veterans throughout history. More importantly, AC wanted to offer a helping hand to all the men and women facing their own adversities throughout the world. Although he initially only planned on staying for six years, AC's military career ended up spanning over 26 years where he became a distinguished member of the US Army Signal Regiment, earning numerous recognitions and high-ranking titles. These titles include Command Sergeant Major of the 112th Special Operations Signal Battalion, U.S. Special Operations Command J6 Senior Enlisted Advisor, and a Department of Defense Civil Servant. Of all his achievements, the one that still stands out to AC is his Lifetime Achievement Award for his service to the 112th Signal Battalion before, during, and after the September 11 attacks.
"On behalf of the Dunedin History Center, we are more than honored to accept these awards from Mr. Arthur Coley. AC's military contributions are a big part of Dunedin's history, and we are incredibly fortunate to be able to feature such a monumental piece in this museum."

Blair A. Kooi
President, Dunedin History Museum

While the Shadow Warrior Award recognizes well-respected service members for their coaching, mentoring, and selfless service to the United States of America, AC reflects on this award a little differently by recognizing and remembering all the courageous acts that took place on September 11, 2001. As we approach the 21st anniversary of 9/11, it's important, now more than ever, to remember all that happened on that dreadful day. By preserving this award, AC hopes that people will never forget all the military, Interagency, Multinational Partners, and Civilians who fought and sacrificed their lives to protect our great nation.
Spathe Systems salutes and congratulates AC and all he has done for this country. We wouldn't be the same organization without him. Thank you for your service, sir!
Pictures from this Event