Spathe Systems Welcomes Retired MSG, Carlos Dugrot as latest Warrior Care Intern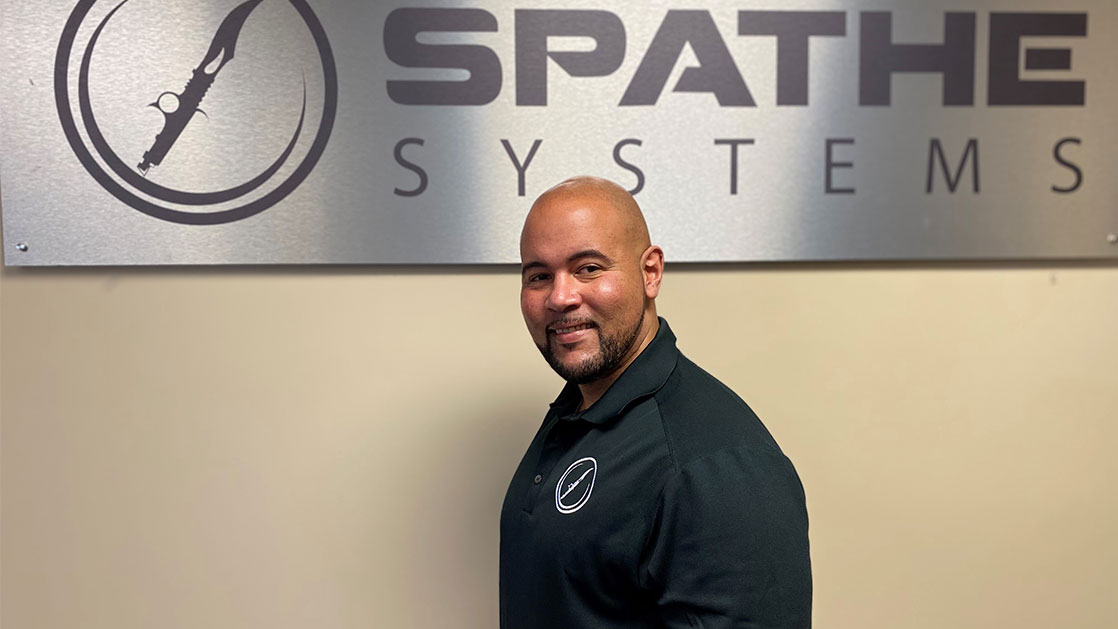 Our partnership with USSOCOM's Warrior Care Program only continues to surpass our expectations with the truly incredible individuals that we feel fortunate to work with. Our most recent intern, Carlos Dugrot, is a retired veteran who is seeking a profession in Project Management. During his time here, Carlos served as an invaluable member of the SPATHE Systems team, providing much insight into the current issues our employees are actively solving today. Stationed in Fort Bragg, North Carolina, Carlos reported to our office in Fayetteville while simultaneously collaborating with our HQ employees on a day-to-day basis. We had the chance to sit down with Carlos and ask him about his thoughts on the internship.  
Tell us a little about your military career, how did you initially get started?
I initially started my military career back in 2001, a month before the 9/11 attacks. Prior to this, my plan was to serve for four years, get a degree, and go back home to Tampa. But as time passed during my initial enlistment, my sense of duty and commitment grew and what can I say? I became accustomed to the culture, camaraderie, and way of life.  
During my 20 years of service, I served with the 82nd Airborne Division, the 173rd Airborne Brigade, the 3rd Armored Calvary Regiment, Special Operations Command Central (SOCCENT), the 95th Civil Affairs Brigade (Airborne), and the Special Warfare Center and School. I spent the majority of my career as a Civil Affairs Specialist, which was very rewarding due to the diverse nature of the job. One day I was in uniform doing combat operations with my team. The next day I was in a suit briefing an Ambassador. And the day after that I was working on a project with a Non-Governmental Organization (NGO).  
"Carlos will be a valuable asset to any company he works for. He brings a great deal of experience that will make his transition much easier. He was fully engaged during his internship and took full advantage to ensure he had a better business acumen understanding."

Dir. Mission Support, Deymos Borgen
What made you want to join our team at Spathe Systems?
I was very attracted to the company's diverse approach to tackling emerging challenges through continuous learning and innovation. Many companies often fail to maintain a competitive edge due to their lack of flexibility and adaptability. SPATHE seems like a company that will find a way or make a way to provide solutions. I personally like a work environment that is always evolving and diverse.
What made you want to pursue degrees in Strategic Leadership and Organizational Leadership?
I have always been intrigued by the power of influence and good leadership. My initial desire was to study business, but if there is one thing that the Army has taught me it's that a successful business is the product of good leadership. Hence the reason why the Army has never failed – only bad leaders do. I also enjoy teaching and guiding individuals and teams to organizational success. 
Carlos' Contribution to Spathe Systems
Carlos arrived at SPATHE Systems at a critical time where he was able to contribute to a major contract proposal from capture to submission. He used his extensive SOF knowledge to help provide insight to this effort from a warfighter's perspective. Working with some of SPATHE's most experienced program managers, Carlos gained a firm understanding
 of typical program manager responsibilities including: 
Organizing programs and activities in accordance with the mission and goals of the organization

 

Developing new programs to support the strategic direction of the organization

 

Creating and managing long-term goals

 

Developing a budget and operating plan for the program

 
"Carlos easily merged into our PMO in a Program Manager capacity," said VP of Mission Support, Roger Jones. "His past performance as a senior NCO in Special Operations made it easy to talk to him about his role as a future PM." 
Carlos is just one of many successful Warrior Care interns we have had the pleasure to work with. Time and time again, our interns prove themselves to be some of the brightest and hardest-working individuals. As a proud Service-Disabled Veteran Owned Small Business (SDVOSB), we are committed to providing our veterans with the opportunities and skillsets needed to successfully navigate the professional landscape. If you or someone you know is interested in participating with us in the Warrior Care program, please contact us! 
This article does not constitute an endorsement of Spathe Systems, LLC by the Department of Defense or U.S. Special Operations Command.