Expanding our Outreach: Spathe's New Fellowship Program in Fayetteville, NC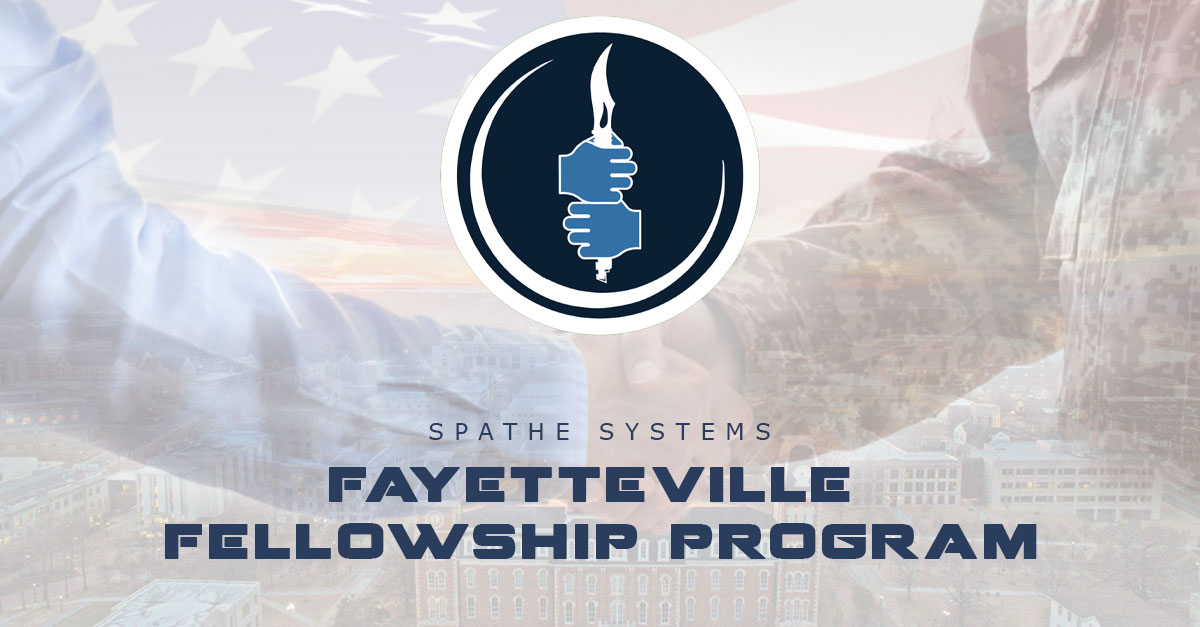 Spathe Systems has always been for the warfighter. Being a Service Disabled, Veteran Owned Small Business (SDVOSB) comprised of military veterans from all branches of the Department of Defense, we believe it is our duty to look after the men and women who have fought and continue to fight for our country. A primary example of this is through our military outreach programs. Since 2018, we have worked diligently to create multiple SkillBridge programs for our active-duty members in the Tampa Bay area to help them transition safely and successfully to civilian life, and we're eager to expand our reach for this support. With that being said, we are excited to announce the establishment of our Fayetteville Fellowship Program: A Spathe Sponsored SkillBridge program based out of the home of the Airborne and Special Operations Community in North Carolina!
Since we opened our Fayetteville office in 2020, we have been working hard to build a military outreach program that truly supports our fellow men and women in the Fayetteville area with their transition to civilian life. This new fellowship program enables veterans of all levels to work with seasoned professionals both inside and outside the Fayetteville command, on real projects supporting various organizations within the defense industry. Each internship focuses on the individual warrior's specific goals and needs while taking them through the full lifecycle of business processes that occur in a Defense Contracting business. Additionally, we offer extensive program management and leadership guidance to our veteran applicants and encourage them to capitalize on training and development opportunities throughout their military career so that they may grow and develop as professionals fully capable of serving the Nation – both during their time in uniform and after their term of military service as civilians.
Ultimately, our objective with every one of our interns is to give them the tools and resources needed to help them transition out of the military successfully. We are proud to say that every intern that has walked through our doors has moved onto bigger and better things in their careers and we are eager to keep that streak alive as we move into supporting the Fayetteville defense community.
Our First Fayetteville Fellowship Members
The first candidates to join our Fayetteville Fellowship Program have already hit the ground running on multiple projects supporting the Spathe mission. Former Army Division Operations Manager, Mike Garcia started his fellowship back in November with the intent to grow his knowledge of Program Management and Business Development. Mike is now leading the efforts for the Fayetteville Fellowship program, managing all in-processing work for future fellows.
"I researched many different options as I began my transition…" Mike Garcia said, "the reception at Spathe Systems has been well beyond my expectations and I am positive they will catapult me to the next level of my career." Being our very first Fayetteville fellow, Mike has truly become a pioneer for this new program, and we are so very thankful for his commitment and determination to help support the Spathe mission in the home of the Airborne and Special Operations Community.
Our latest Fayetteville fellow comes to us from the Army's 1st Special Forces Group. Ryan Dunkle is a Special Forces Communications Sergeant who has had an extensive career supporting various countries across the Indo-Pacific region with tactical communications efforts. While only being a month into his internship, Ryan has already started to apply his extensive knowledge on tactical communications to establish a new mobile training program within Spathe that focuses on improving communications efforts throughout SOF, both at the tactical and enterprise level. In the very short time that they have been with us, both Ryan and Mike have already proven themselves to be invaluable members of the spathe mission and we couldn't be prouder to have them on board.
Putting Family First
One aspect of the transition process we really try to prioritize for all our SkillBridge fellows are putting family first. The stress and uncertainty of what comes next can really put a toll on the families involved with this transition and we understand that. During each internship, we set ample time away for each fellow to sit down with one of our senior mentors and simply discuss what's going on in their lives. We walk them through the five Fs of life: Faith, Family, Finances, Fitness (physical and mental), and Friends to identify any burdens that are causing stress for both them and their families. Using our network of SOF resources, we do our best to provide each service member with the appropriate tools that fit their needs. This includes everything from financial management to realtor contacts, to even follow-up counseling. Anything to relieve some of the additional stress that comes with transitioning out of the military.
"Being a SOF veteran, I am used to constantly looking for work; but knowing that I can take this time to focus on establishing my post military career and taking care of my family is invaluable for my transition. Spathe has provided me what I've been missing for the last seven years… time."

Ryan Dunkle
Spathe Fayetteville Fellow

Transitioning out of the military is hard, but it's even harder for the spouses and children involved. We make sure that every service member we work with is given the quality time they need to focus on them and their family. Landing a job is just one small part of our fellowship program. Your life and the people that are closest to you will always be our number one priority.
Moving Forward
The Fayetteville Fellowship Program is an embodiment of everything we have been working to achieve since we started our workforce modernization program back in 2018. Being a SDVOSB, we at Spathe believe it is our duty to provide support, coaching, and mentoring to our nation's veterans as they navigate the next chapters of their personal and professional lives. We look forward to continuing this mission as we grow our footprint in the home of the Airborne and Special Operations Community.
Interested in a SkillBridge internship with us? Submit an application below! We'd love to assist you with your military transition!
Learn more about our fellowship programs and military outreach here.