Spathe Intern, Jeremiah Gilbert, on Moving Departments While Transitioning to a Full-Time Position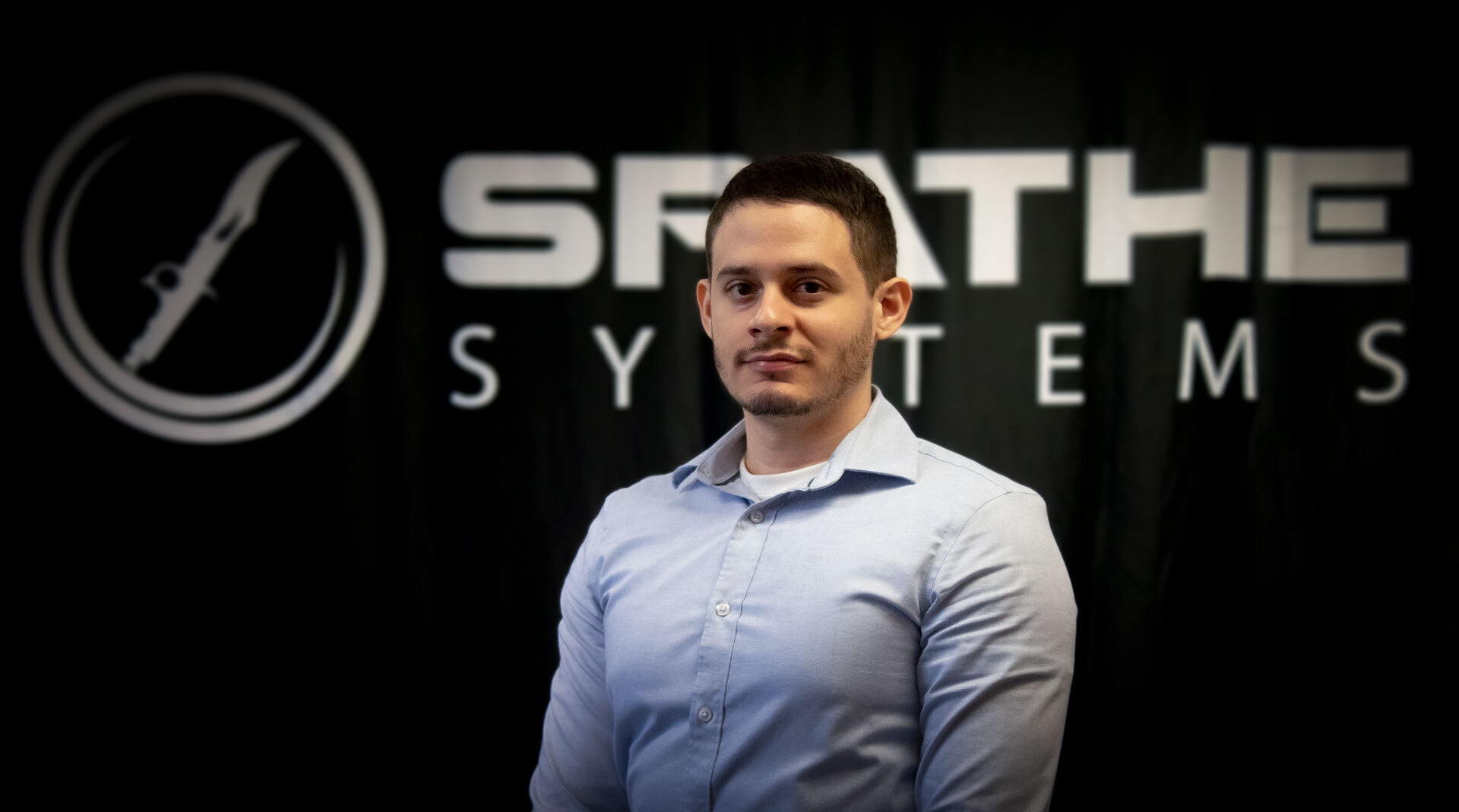 Whenever we get the opportunity to bring a new intern into the Spathe family, we recognize the duty to form a connection. We pride ourselves on providing opportunities for cutting-edge individuals who are passionate about learning and growing in hopes of developing their professional toolkit so that he/she can succeed. These interns are self-starters; they bring new ideas and perspectives to the table, and they never miss out on a new opportunity. Our entire organization is dedicated to coming together to help shape these individuals into well-rounded professionals as a matter of company pride. Many times, our interns come from a variety of backgrounds whether they're military-based, academic, or just simply a person with an interest in the work that we do.
This is precisely why Jeremiah Gilbert came to us back in early January. Jeremiah is the ultimate representation of a Spathe intern. Coming from a self-taught background in programming language, Jeremiah used his skills and passions to progress from an intern all the way into a full-time position as a Programs Control and Pricing Analyst. Interested in many aspects of our company, Jeremiah found himself becoming invested in other departments and was able to transition with ease. We got the chance to talk to Jeremiah about his journey here at Spathe and what advice he could offer future interns interested in our company.
Jeremiah, can you talk a little bit about your roles, both as an intern and now in your full-time position?
I was originally brought on as a Program Control Analyst intern and my roles and responsibilities grew to other areas over time as needed. A major shift of mine was the transition from Program Control work to Pricing/Proposal work after only a few months at Spathe. Getting to learn things in both fields is challenging but exciting and I feel even more connected to the work I'm doing because of both of those backgrounds. Despite my recent transition, my perspective has stayed the same.
Whether it's the transition from intern to full-time or Program Control to Pricing, I welcome change as a growth opportunity and Spathe Systems does a great job at supporting that process.
What was your experience like before coming to Spathe?
After graduating high school, I immediately entered the workforce working in a variety of different positions. I primarily worked as a security officer, but I have also held positions in construction, real estate and even at a popular theme park. I have always had an analytical mindset and felt there was more for me to do, so I decided to go back to college. In the summer of 2019, I graduated from the University of Central Florida with a degree in Psychology and a minor in Business Administration. While in school, I taught myself how to use Python, and used those programming language skills to apply at Spathe.
As far as your experience has gone, how do you feel that interning helped you transition upward at Spathe?
Growth and opportunity are rooted deeply at Spathe Systems. They have provided me with the necessary challenges and opportunities that have helped position me in the role I'm in today. Any questions I've ever had have been met with value and timeliness. The leadership at Spathe have crafted this environment where everyone is valued and given the freedom to succeed. All you need to do is put in the work on your end and excelling is virtually natural.
What did you/do you think about the company culture here? Did you feel like your fellow coworkers were supportive of your growth?
Spathe Systems is goal-oriented, lighthearted, inclusive, and respectful. Everyone here wants to do the best work possible and if you are putting in the effort, it won't go unnoticed. Coworkers are always encouraging, and management monitors your performance to make sure that you're enjoying your experience. There is always an open-door atmosphere where you feel like you can get assistance from anyone, anytime.
What is your biggest takeaway from the intern program and what would you tell future interns interested in Spathe?
Growth happens quickly when you step outside your comfort zone and having the support system my mentors and coworkers provided me only amplified this process. As far as future interns go, I would definitely stress that it's okay to not know everything right from the beginning. Obviously, the work we do for USSOCOM and other governmental institutions takes time to fully understand, but that all comes with time. It's great to have that overarching purpose of supporting the Department of Defense and Special Operations Command and it's a privilege to work at a place that can really make a positive impact on the world. Ask questions, stay curious, and recognize that you have a full team available to support you and help guide you through your journey.
Helping Jeremiah explore new areas of interest and supporting his transition into another sector of our company is something we encourage wholeheartedly with any of our interns. We believe in the professional journey and recognize that many of our team members who find themselves diving into another department only make us stronger. Like so many of our interns, Jeremiah has proven to be an individual who will help shape the future of Spathe Systems. As a growing company, we welcome all new perspectives as we charge on to a greater, more versatile Spathe future.