Spathe Systems Welcomes Col. Russell Voce as VP of C5ISR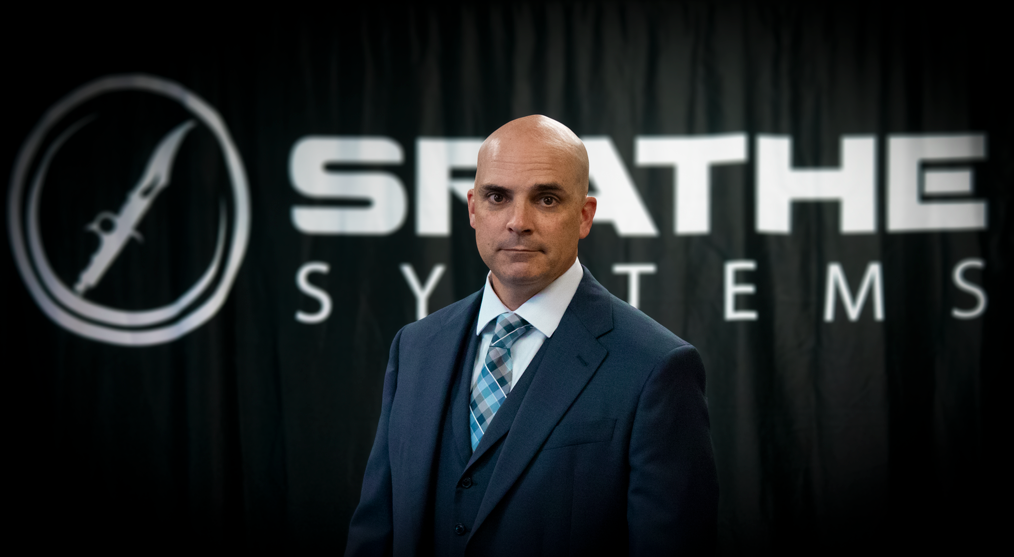 One of our greatest strengths at Spathe Systems is the diverse backgrounds of our employees – particularly our leadership. Different experiences bring new perspectives on how we operate as a company and in turn, make us stronger. As we grow, welcoming new and diverse leaders continues to motivate us.
Our latest addition to Spathe is none other than Colonel Russell Voce, stepping in as Vice President of C5ISR. Russ joined us this month after 27 years of service as a U.S. Air Force officer. Russ has extensive experience in IT and military communications across many platforms, previously serving as the Deputy Chief Information Officer for USSOCOM. He participated in Project Transition USA, a 501c3 nonprofit that specializes in assisting military veterans with their workforce transition.
Russ was the perfect candidate to take over the C5ISR department because of his experience and work ethic. Russ sees leading a team as a work of passion and something that he takes pride in. We recently got the chance to discuss what attracted him to the position, and where he sees the future of the company heading.

Russ, can you give us a brief rundown of your military and professional background?
I did not come from a traditional military family. The Air Force paid for me to go to college and supported me early on. I never had a definite plan or schedule but 27 years later, I am an Air Force retiree. They paid for me to get a Computer Science degree so that I could  build my career in IT. The military also sent me to The Naval Postgraduate School in California where I earned a master's degree in Special Ops/Low Intensity Conflict. Because of this degree, I spent roughly 10 years serving in various Special Operations Units.  I am very proud of my service and it has been a privilege to serve.
What attracted you to leading the C5I Support department for Spathe? Did the small business atmosphere have any influence on your decision?
I chose to lead the C5ISR department because of the leadership. I knew many of them and worked with some in the past, so there was a comfort factor in transitioning. Spathe is a growing company with an outstanding reputation and this was something that attracted me.
I knew that working in a small business atmosphere allowed me to be heard. This is not always the case in a large corporation.
Spathe wholeheartedly believes in helping our transitioning vets. Tell us a little bit about your experience with Project Transition USA. What do you believe is the significance of having an incubator program setup for retired/transitioning veterans?
Project Transition USA and programs like it are outstanding. Other than summer jobs, I never interviewed for a job. As I mentioned earlier, I came straight out of college and entered the Air Force. Once I figured out that I was ready to retire, I realized I needed to write a resume. I had to translate all my military expertise into the professional world and figure out how to interview. Project Transition USA, FourBlock, and other similar programs helped me resolve these issues. Leading others through the same transitions themselves is one of my proudest achievements.
You were once in the same position of many veterans looking for that move into the commercial sector. What advice would you give to new veterans in their search for the right company to apply to?
Spathe provides a lot of opportunity and does a great job supporting military members with their transition. It is everything you would expect and hope for from a veteran-owned business.  Specific partnerships, such as our company's association with the Care Coalition, demonstrates corporate support for our nation's heroes. This is always something to keep an eye out for when applying. Having a successful internship program also shows potential and proven success in assisting transitioning military.
We are thrilled to have Russ joining our team. Welcoming new members into the Spathe family is something that takes little time because of our tight-knit bond. The SOF, commercial and academic professionals who come together for one common goal define us at Spathe. As we continue to expand, we want to highlight our team so that the people truly shine through the positions. The future of Spathe will continue to be defined by innovative progress, new ideas in means of operation, and complete customer satisfaction.